Tech giant reported a $11.5bn profit, up 32% from the same period last year, and sales increased 17% to $53.3bn, a new record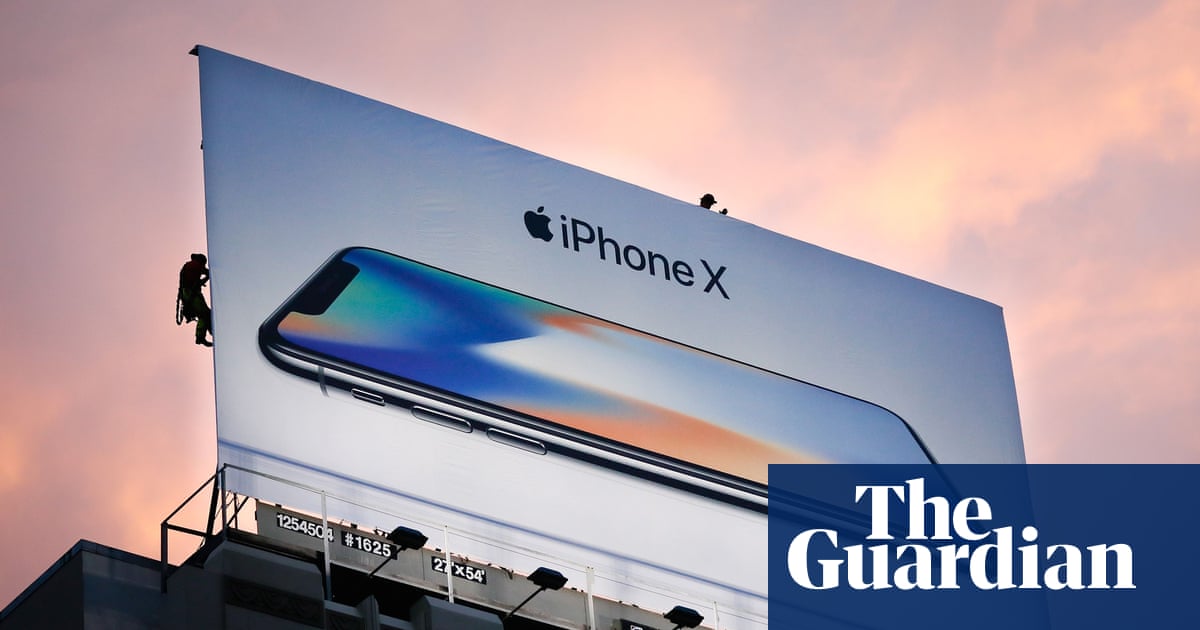 Apple Inc reported better than expected sales figures for the third quarter, pushing shares of the iPhone giant higher and easing the value of the company up from $935bn toward the symbolic $1tn threshold.
Growth was strong all around the world, Apple finance chief Luca Maestri said.
After the markets closed in New York on Tuesday, the Cupertino, California-based iPhone giant reported a $11.5bn profit for the three months ending in June, up 32% from the same period a year ago. Sales increased 17% to $53.3bn, a new record for its fiscal third quarter.
The company said it expects fiscal fourth quarter revenue to be between $60bn and $62bn, against analyst estimates of $59.5bn. Apple gave the Street and tech investors finally some good news, noted GBH Insights analyst Daniel Ives.
After last weeks investor-led beating of Facebook on Thursday, Facebook had the single worst day in stock market history, losing more than $120bn from its market cap as its stock tanked over 20% Apples numbers are likely to give a measure of relief to FAANG-wary investors. Apple stock rose 2.5% in after hours trading Tuesday following the earnings report.
The figures show that Apple sold around 41.3m iPhones during the quarter, little changed from the 41m it sold in the same period a year ago, as consumers shrugged off higher prices for Apples flagship iPhone X model.
Apples figures also reflect increasing demand for other products, including Apple Watch, once considered a weak offering, but which sold around 3.5m units during the quarter. Overall, other products, which also includes AirPods earphones, Apple TV and HomePod speaker systems, recorded a sales increase for the quarter of 37% year-on-year.
The results were driven by continued strong sales of iPhone, services and wearables, and we are very excited about the products and services in our pipeline, Tim Cook, Apples chief executive officer, said in a statement. Maestri added: Growth was strong all around the world.
The company also reported strong growth in its fastest-growing services division, which includes Apple Music, now the largest music streaming services in the US. Along with various online TV, news and publishing, gaming and cloud-hosting services, Apple is targeting $50bn in annual services revenues by 2020.
Over time, it is inevitable that other products will become the third-largest revenue line item for Apple, notes Neil Cybart, Apple analyst at Above Avalon, ultimately overtaking Macs and iPads, while still behind iPhones and services.
However, analysts said that a more relevant picture of Apples health wont come until September with the launch of three new iPhone models, including a large-screen iPhone X, a more affordable model with a lower cost LCD display and a number of ancillary products.
While Apples iPhones and computers are exempt from tariffs imposed by the Trump administration on Chinese imports, Apples other products unit could be affected.
Still, as of Tuesdays close, Apples stock only needs to rise around 7% to reach the trillion-dollar threshold.
Its a calculation that becomes more complicated because the company is using its massive cash reserves and profits repatriated under Trump tax break schemes to buy back its own shares.
Nor is Apple is the only tech giant closing in on a $1tn mark. Amazon is edging over $870bn; Google owner Alphabet has a market valuation of nearly $845bn; and Microsofts is just under $815bn.
With new products imminent and a $267bn stockpile of cash, Apple hitting $1tn could be imminent.
Read more: https://www.theguardian.com/technology/2018/jul/31/apple-q3-results-1-billion-threshold